Supporting Digital Transformation: Talent Spotlight with Henry Le
As Data Gumbo is growing its employee base to meet demand and amplify our customer service, we're beginning a new monthly blog series called "Talent Spotlight." Our first spotlight is new team member, Henry Le who joined Data Gumbo as an Associate Solutions Consultant in late September of this year. Previously, Le was a Senior Project Engineer at ExxonMobil, where he was responsible for leading engineering support for international projects and multifunctional teams that included the management of full cycle land and offshore projects for oil & gas well constructions.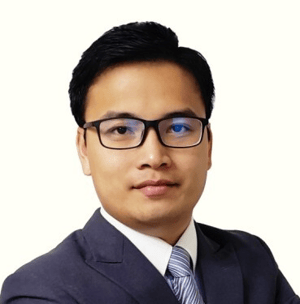 Motivated to improve execution plans and provide innovative, data-supported solutions, Le left ExxonMobil after five years to study Data Analytics and Visualization at Rice University, including application development with Python, JavaScript, Machine Learning, Artificial Neural Network and Big Data.
At Data Gumbo, Le will contribute to our mission of bringing automated smart contracts to commercial transactions to change the speed and accuracy of global business. By analyzing contracts to extract business logic, assess existing processes for stakeholders and defining data requirements to design smart contract solutions, Le will utilize his oil & gas field experience along with his advanced technology skill set to better serve Data Gumbo customers.
Welcome Henry! We're glad to have you on board. Let's learn more about you.

You have a really interesting work history in that you left an entrenched supermajor to upskill your knowledge by pursuing advanced digital technologies at Rice University. What led you to make this decision?
It's a simple reason really, I'm passionate about Artificial Intelligence (AI), automation and robotics as I strongly believe that we don't have to do everything manually. My goal is always to build the best lean and efficient operations by utilizing Computer Science technologies.

In my early days working in the field, I was tasked with collecting field operations data from the previous 24 hours across multiple data sources to create an analytics dashboard and generate reports for the management team. I had to manually copy and paste all incoming data into a master Excel spreadsheet, make visualizations, then copy the charts to a PowerPoint presentation, convert it to a PDF and then distribute it to the team. The whole process took around three to four hours.
A significant amount of time could be saved if this entire process was automated. With advanced programming techniques, it could be executed within minutes. Engineers are expensive and if you consider scaling this work up times 10 or even to 100 engineers repeating the same laborious task every day, how much manpower and how many resources are being wasted?
For smaller companies even, the savings could be quite significant, especially in the low oil price environment. Of course, this task is just a small one among many other important engineering tasks. If I could get back three hours everyday, I could use that to focus on more critical tasks, right?
During an interesting SPE Data Analytics event last fall, I had the privilege to meet several brilliant Houston startup CEOs who were working to support the oil & gas industry. I was super impressed with the advanced technology that these companies were bringing to the table. This was the straw that broke the camel's back if you will!
I recognized that I wanted to contribute to the digital transformation of this industry. Right after this event, I began exploring opportunities to continue my education and signed up for the Rice University program.
As someone who is now embedded in startup culture serving the oil & gas industry, among others, do you think that this is part of a trend, to reskill and/or upskill? Also, why now?

Drawing from my experience working for both oil & gas and technology companies, by upskilling myself, I bridge that gap to help oil & gas companies understand the significant value of technologies and to influence changes. Startups need oil & gas professionals' expertise to help drive the change, and oil & gas companies need someone who understands the value of technology to support digital transformation. It's a two-way street, and one of the crucial keys to help our industry to survive. If the industry supports new ideas and understands the value that these startups bring to the table, it could be a great leap to a much brighter tomorrow.
Low oil environments have persevered since late 2014. When this pandemic hit, things got even worse, forcing companies to take a hard look to find opportunities to improve operations and cut costs. Right now, companies are incentivized to implement emerging technologies and there is a huge opportunity for smaller companies to present their innovative tools.
Do you have any predictions on the role of technology in oil & gas' ability to come out of the current circumstances?
Definitely, wider and faster technology adoption will be one of the most important factors for the survival of the industry. We have to drive the cost per barrel down and technology can help us do that. It is not that impossible to implement technology and start the change management process, today. The question is: are companies ready? I think they are.
My recommendation for oil & gas companies: Just because things work doesn't mean there aren't problems. If industry continues to operate the same way it always has, why should we expect a better or different outcome? I think it is the time to start opening up to emerging technologies, support for new ideas and a willingness to adopt different ways of doing business.